CycleRecorder
Introduction
CycleRecorder is a project to develop a custom multimedia and sensor data logging system for gathering and presenting data about the cycling experience.
Block diagram showing major functional blocks with arrows showing general flow of data.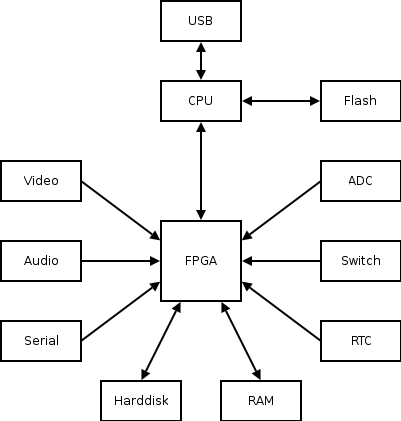 CPU,USB - CY7C68013, Cypress Semiconductor, EZ-USB FX2(TM) USB Microcontroller.
Flash - ???.
FPGA - ???.
Video - TVP5150A, Texas Instruments, Ultralow Power NTSC/PAL/SECAM Video Decoder.
Audio - PCM1801, Texas Instruments, Single-Ended Analog-Input 16-Bit Stereo Analog-To-Digital Converter.
Serial - Custom logic.
RAM - CY7C109B, Cypress Semiconductor, 128K x 8 Static RAM.
Harddisk - Custom logic.
Switch - Custom logic.
ADC - ADS7816, Texas Instruments, 12-Bit High Speed Micro Power Sampling Analog-To-Digital Converter.
RTC - DS1302, Maxim Integrated, Trickle-Charge Timekeeping Chip.
Diagram showing locations for sensors.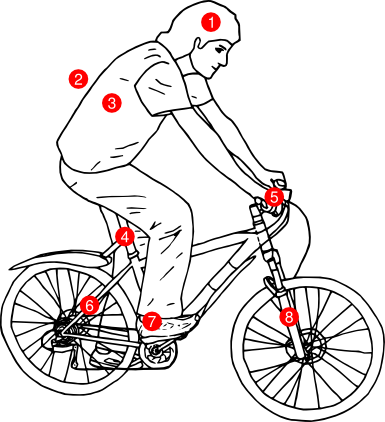 1 - Head Mounted: Video, Audio, Movement
2 - Backpack or Rear Rack: Location, Temperature, Air Pressure
3 - Cyclist Body: Shock, Heart Rate, Breathing Rate
4 - Seat Post: Video, Audio, Shock, Tilt
5 - Handle Bars: Video, Audio, Steering, Braking, Gears
6 - Rear Frame: Shock, Wheel Rotation
7 - Frame, Near Crank: Crank Rotation
8 - Forks: Shock, Wheel Rotation
---
News
2005-01-21
After some recent thought and discussions I don't belive cyclists in Dublin are going to receive any long term benefit from velo, so I've decided to withdraw my project.
Subject: Re: Paper 279 Mr Robert Fitzsimons

Hello M.A. and A.M.

It is with regret that I have to inform you that I am not willing to
present my project in Velo-City 2005 Dublin.

As a person who cycles on an almost daily basis around Dublin I see
first hand what the Department of Transport, Dublin City Council,
Dublin Transport Office and other Council's really think of cyclist.

[edit]During velo[/edit] I expect to see the establishment role out
there bicycles in front of the media and proclaim Dublin and Ireland
to be a great place to cycle.

When I feel that is far from the truth, with laws and cycle facilities
which put cyclists and other road users in even more danger, the
failure to follow any form of standards and the law in some cases, and
the failure to enforce the laws in relation to the uses of the roads
and cycle facilities.

As for the fee's for delegates I do not fit into any of the categories
for a discounted rate, my 700+ euro will be better spent developing my
project.

I will continue my project and make the project details and results
available on my website, http://273k.net/cyclerecorder/ .

Thank you.

Robert Fitzsimons
robfitz at 273k.net
		
2004-10-15
This is a the abstract I submitted for Velo-city 2005 Dublin:
CycleRecorder - The Cycling Experience - Velo-city 2005 Abstract
CycleRecorder - The Cycling Experience
Authors:
Fitzsimons, R1
Affiliations
1 Dublin Cycling Campaign, Dublin, Ireland
Conference Theme: Balancing the Needs of Cycling
Preferred Platform for Velo-city: Poster session, Workshop, Oral Presentation
INITIAL ABSTRACT TEXT
CycleRecorder is a new project to develop a custom multimedia and sensor data logging system for gathering and presenting data about the cycling experience.
The basic CycleRecorder system will consist of head and bike mounted cameras and microphones, a cycle computer and GPS, this data will be recorded to a computer carried on the bicycle.
Once the basic CycleRecorder system is in place extra sensors will be added, these sensors could included:
* Heart rate and breathing rate monitors.
* Tilt, vibration, shock and speed sensors.
* Environmental sensors, air quality, wind speed, weather.
* Amount of braking, gear usage, steering, cadence.
Like similar projects, CycleRecorder will be able to monitor the road surface condition and location, with the additional feature of being able to analyse how the cyclist reacts to visual, audible and surface conditions.
The data will be presented to the users as a custom application which will be able to show the multimedia data synchronized with the sensor data. Interactive maps will allow for quick navigation through the data, it will also be possible to move slowly through the data for very detailed analysis.
The CycleRecorder project will involve the creation of custom designed hardware and software solutions, all information about the design and software used will be made available to the public under an open source license.
The presentation at Velo-city 2005 will include an overview of the CycleRecorder project, the designed and construction. The CycleRecorder system will also be used to to highlight specific scenarios and locations in Dublin.